This Week's Events
Wednesday, September 21st

Sunday, September 25th

3rd Grade Communion Class 11:15-12:15
Nursery: Noah
Preschool: Baby Moses
Elementary: God Calls Samuel
Coming Up
September
Wednesday, September 28th

God Invites Abram and Sarai
October
Sunday, October 2nd

3rd Grade Bible Presentation during Worship
Preschool: Manna in the Desert
Elementary: David Plays Music

Wednesday, October 5th

Sunday, October 9th

Preschool: Manna in the Desert
Elementary: David and Goliath

Wednesday, October 12th

God's Love for Hagar and Ishmael

Sunday, October 16th

Preschool: The 10 Commandments
Elementary: David and Jonathan

Wednesday, October 19th

Sunday, October 23rd

Preschool: The 10 Commandments
Elementary: Solomon Prays for Wisdom

Wednesday, October 26th

God's Wisdom is with the Child

Saturday, October 29th-A Framework for Flourishing: Inclusive Children and Youth Ministry Training (See Details Below)

Sunday, October 30th

Preschool: Hannah and Samuel
Elementary:Solomon Builds the Temple
Midweek Connect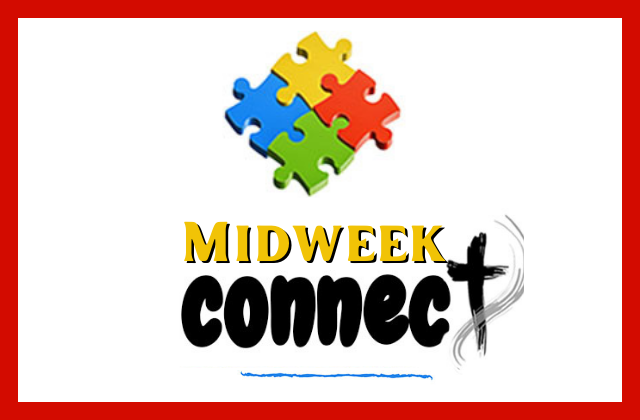 Wednesdays, 5:30 pm
MidweekConnect is a time of fellowship, fun, and faith formation for the whole family! Our Wednesday night program resumes on September 21st. Wednesday nights at Midweek Connect will focus on connection: with family, with God, and with friends in the church.
Join us each week for:
Dinner (5:30-6:30): Connect with your family around the table during a meal together.
Worship (6:00-6:30): Connect with your family and God during a fun, informal worship experience full of music, scripture, and hands-on activities. Dinner will continue to be served and you're welcome to continue your meal around the tables while worship is happening.
Connection Groups (6:30-7:15): Connect with others during KidsConnect and ParentConnect Groups
KidsConnect: Children in grades K-5 are invited for a time of fun, fellowship, and faith formation. This fall we will engage with biblical stories to explore ways we join God at work in the world.
ParentConnect: While your child is in KidsConnect, join our ParentConnect group! Each week we will have a brief discussion on family spiritual formation topics and ways to connect children's KidsConnect learning to home, followed by a time of fellowship and dessert! Nursery will be available for younger children of ParentConnect participants.
Register today to join us on Wednesday nights this fall. Follow this link to register your child for KidsConnect. You can also indicate your interest in ParentConnect while registering your child. Questions? Email Rachel Lunning.
CROP WALK! STORY WALK!
First United Methodist Church Northville Hunger Stompers 2022 presents…
Grab your kiddos and join us for a fun and meaningful CROP Walk event that raises money and awareness for our hungry community. Along our walk path "Love the World," by author Todd Parr, story pages will share with your kids the theme of the CROP WALK…caring for our world and each other.
At the end of the walk, ice cream, a sense of accomplishment, the joy of family time await, and the kids will receive a "Love the World" coloring page and crayons to reinforce the message. There will also be a scavenger hunt activity for older kids. Invite other families and friends to join in the fun!
Sunday, October 2, 1:00pm check-in
First Presbyterian Church, 200 E Main Street, Northville (starting point)
For decades this multi-denominational ministry has raised money for those who simply do not have enough to eat or the infrastructure to feed themselves. This 3.5-mile walk – with shorter walk options – raises awareness and funds that participants generate from pledges by friends and family. This worthwhile, family friendly event starts at the First Presbyterian Church in Northville and follows a path through the beautiful Hines Drive area.
So, outfit the wagons and strollers, round up friends and family and join the community to do "all the good we can."  Sign up at:
Register Now! Click on "join or start a team" and find "FUMC Northville Hunger Stompers 2022."
Contact Sue Craik if you have any questions. craik1@aol.com, 248.961.5911
A Framework for Flourishing-October 29, 2022
Join us as we welcome Victoria White from All Belong Center for Inclusive Education for a full day training on creating an inclusive children and youth ministry. All Belong Center for Inclusive Education is a non-profit organization that equips congregations and schools to glorify God through purposeful, innovative inclusion of persons with varied abilities. Although training is geared towards children and youth ministry leaders, all are welcome to attend!