Nursery & Sunday School
Nursery room is generally available for all worship services held at FUMC and is available during the entire service. Our nursery coordinator is Makayla Humphrey and she loves all our kids!  The Nursery room is located near the Sanctuary just at the top of our middle staircase and elevator.  On Sunday mornings, you will see her standing outside the doors ready to welcome your little ones.
Preschool age children begin the service with their parents in the sanctuary.  After the greeting and announcements, they are dismissed to go to Sunday School.  You will see a flock of children excitedly exit the sanctuary to be greeted by our Children's Director, Rachel Lunning, in the back of the sanctuary who will walk with them toward the classrooms.  Many preschool parents walk their preschoolers to the classroom and quietly rejoin the service. If you have any questions regarding Sunday School, please contact Rachel Lunning.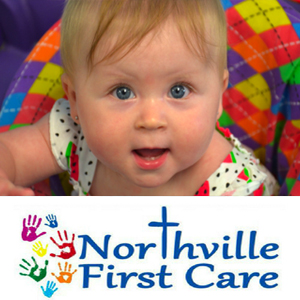 State Licensed Daycare
The congregation of the First United Methodist Church of Northville recognized a need within its community for quality child care and felt a responsibility to help fill that need. It is the desire of this congregation to offer a child care center dedicated to providing high-quality Christian care to all of the children in the community. Following the teachings of Christianity and the heartfelt commitment to the community in which we live, we have developed, built, staffed and equipped a child care center to provide care and learning of the highest caliber. Northville First Care proudly opened it's doors to the community in April 1997 and we welcome all families in need of care to utilize these services and facilities.
Northville First Care offers age appropriate "play based" fun filled curriculum that encourages them to explore, discover and learn thereby growing in all the developmental areas physically, socially, emotionally and cognitively. Please visit the Northville Firstcare website for further information and inquiry.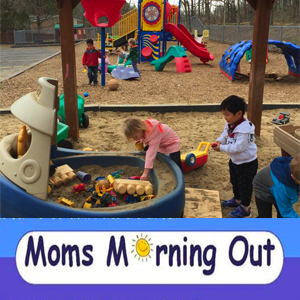 Moms Morning Out
Moms Morning Out is an outreach program for at-home moms who could use a break and would like to have their children cared for in a loving Christian environment.  Our program provides Christian education and socialization for children from birth to 5 years old through Bible stories, crafts, and gross motor activities.  The program runs from September through May from 9:15am until Noon. Moms may sign up for one day a week: Wednesday or Thursday.  
For more information, you can: