This Week's Events
Wednesday, March 2-

NO Midweek Recharge
Ash Wednesday-7:00 Worship Service

Sunday, March 6-

Sunday School

Preschool: The Christmas Story
Elementary: Jesus Heals Two Blind Men
Coming Up
March
Wednesday, March 9-

Midweek Recharge-Reflections on the Heart: Storing Up Treasures

Sunday, March 13-

Wednesday, March 16-

Midweek Recharge-Reflections on the Heart: Sharing Our Hearts

Sunday, March 20-

Wednesday, March 23-

Midweek Recharge-Reflections on the Heart: Knowing the Good

Sunday, March 27-

Wednesday, March 30-

NO Midweek Recharge-SPRING BREAK
April
Sunday, April 3-

Wednesday, April 6-

Midweek Recharge-Family Stations of the Cross Walk

Sunday, April 10-

Wednesday, April 13-

Midweek Recharge-Holy Week Labyrinth Walk

Sunday, April 17-

Wednesday, April 20-

Midweek Recharge-Reflections on the Heart:Sharing Our Treasures

Sunday, April 24-

Wednesday, April 27-

Midweek Recharge-The Lord's Prayer
May
May 8th-Children/Youth Worship
May 22nd-Last Sunday School of School Year
May 29th-No Sunday School-Memorial Day Weekend
June
June 19th-Summer Family Picnic
August
Midweek Update
This year during Lent our theme will be "Reflections on the Heart". We will look at scripture and learn what it means to store up treasures in our heart. Some are physical treasures we can touch, hold, store, and give. Some treasures are invisible, yet still greatly matter and guide our lives. By exploring Gospel passages about treasures and matters of the heart, families will reflect on what kind of treasure matters to us, why we store treasures, and the power these treasures have in our lives.
We will explore these themes each week at Midweek.  Children will also bring home a family devotion each week that corresponds with the weekly theme, designed to help families have a time together each week to deepen their faith.
Books of the Bible Challenge
Last week at Midweek and Sunday School, we talked about how during Lent, some people give up something or take up a new practice in order to deepen their faith. The children were challenged to take up the practice of memorizing the books of the Bible, in order, by Easter.  If your child comes to Ms. Rachel and says all 66 books in order by Easter, they will get a prize!
Resources for Scary Times
With the recent events in Ukraine, you may find that you're having difficult conversations with your children about violence and navigating big emotions.  Check out this article from the National Association of School Psychologists about talking to your children about violence for tips.
In addition, if you need words to fill your prayers for Ukraine, I recommend the prayer below.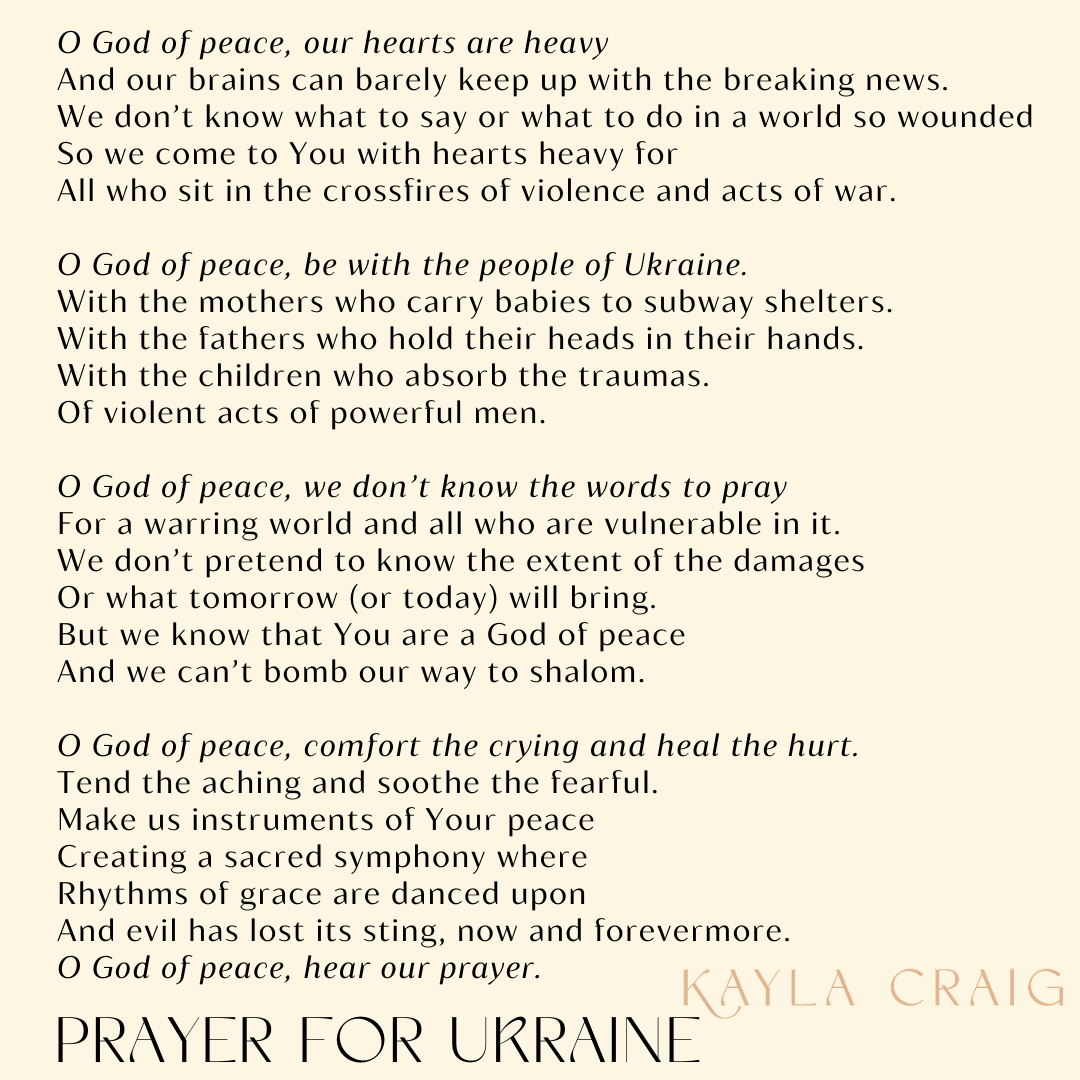 Summer Look Ahead
Although we're still in the middle of winter, I know that a lot of families are making their summer plans. Save the date today for our annual VBS: August 8-12, 2022 from 9:00-12:00.  Our theme this year will be Food Truck Party: On a Roll With God. Mark your calendar now and keep an eye out for sign-up information this spring.
Did you know that UMC has three summer camps in Michigan with programs for elementary age children and families? Find out more information here.