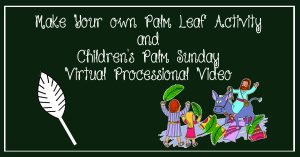 PALM SUNDAY PROCESSIONAL – LET'S MAKE A VIDEO!


AT HOME ACTIVITY

Make Your Palm – Ms. Molly Video
• Start with a Green Piece of Construction Paper OR a White Sheet of Paper and color green after you cut the leaf
• Fold paper in half.
• On the fold side, cut out a long 'half circle' shape.
• Cut slits halfway through the paper along the open side.
• Open paper to reveal a leaf.
• Tape a ruler or stick to the back of your leaf to give you a strong "stem" so that you can wave it while singing "Ho-Ho-Ho-Hosanna" that Ms. Annie will teach you in the next video.

Sing and Wave Your Palm Video – Ms. Annie
• Watch Ms. Annie's video and learn the Hosanna song. Lyrics are:
Ho-ho-ho-hosanna
Ha-ha-hallelujah
He-he-he-he saved me
And I've got the joy of the Lord!
• Once you know the song, have someone in your family record you singing the song, walking like you are in a parade waving your palm that you created in the activity above.

Email this video to leliason@fumcnorthville.org, post it on our FB Group page, or text it to Lindsey at 734-865-0700 by this Friday! Thanks!