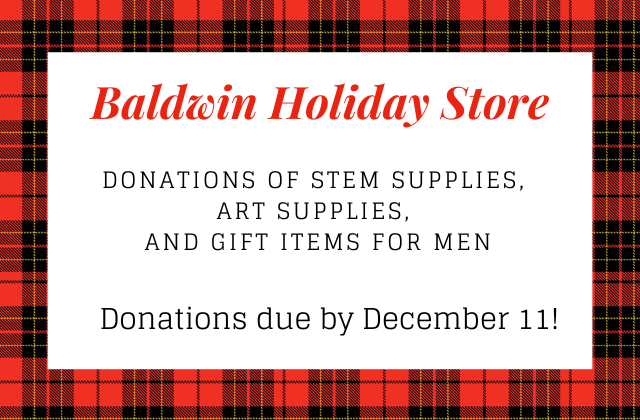 BALDWIN CENTER SUPPORT
The Baldwin Center is located in Pontiac, Michigan. Its mission is to feed, clothe, educate and empower the men, women and children of the Pontiac community. Baldwin provides services to fulfill basic needs and provide tools for children and adults to gain economic self-sufficiency and personal wholeness. After two years of a pandemic-modified holiday program, the Baldwin Center once again transform the Youth Center into a Holiday Store event for 50 to 100 families in need.
FUMC will be collecting STEM Supplies, Art Supplies and items for men during the month of December to stock the store for the event and beyond. New items only should be delivered to FUMC by Sunday, December 11. Contact Anne Holder with any questions. See the wish list here:
Baldwin Center Christmas MInistry Wish List 2022
Volunteers are also needed to help set up, run and tear down the Holiday Store. Sign ups are available HERE.